Stories
AMID PEOPLE AND AIR is a collection of five stories exploring themes such as affection, dreams, expectations, guilt, revenge, connection and love between people.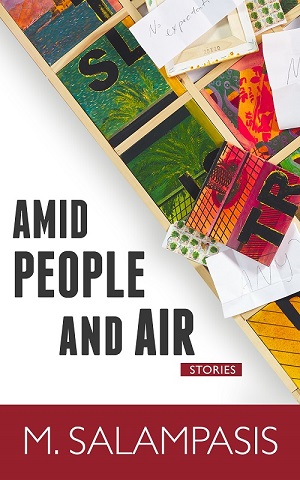 Available as an e-book and paperback at Amazon.com

Includes
A son who has been living abroad for years, decides to set up an unexpected discovery and a plot-history twist in order to restore his mother's honor, stigmatized by a betrayal that is revealed to him after many years.
Even under the best of circumstances, a love spanning many kilometres may become literary, romantic, tragic, sweet, but never and under no circumstances will it be easy.
A romantic trip and an incident that happened twenty years ago. Two birds flying in an incredible and engaging synchronization. A photo taken by a hotel overlooking the Bosphorus. A promise that was not kept.
What would you do if you suspected that your partner was having an extramarital affair? Would you try to find out the truth, even by hiring an Indian computer wiz to do online spying, or would you think: "If you can't handle the truth, if it's going to mess you up, why go looking for it?"
The metaphysical connection of two people, one of them is the famous philosopher Ludwig Wittgenstein, who devoted themselves with absolute passion to science and the pursuit of logic, despite the time distance that separates them.